The Jacksonville Transportation Authority, an independent state agency serving Duval County, has multi-modal responsibilities. JTA designs and constructs bridges and highways and provides varied mass transit services. These include express and regular bus service, community shuttles for a neighborhood ride, a downtown Skyway monorail, the St. Johns River Ferry, the Gameday Xpress for various sporting events at TIAA Bank Field, Paratransit for the disabled and elderly, and Ride Request on-demand services.
About Us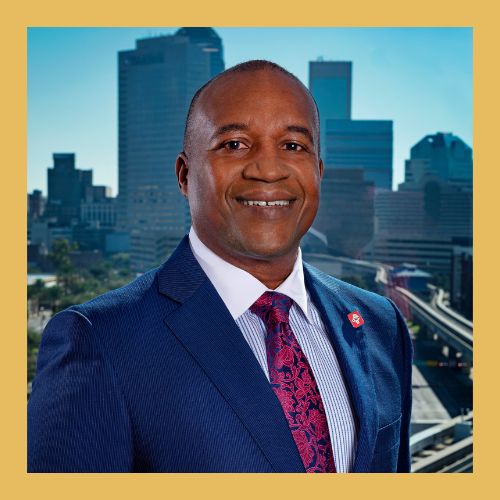 Nathaniel P. Ford Sr.
CEO
Nathaniel P. Ford Sr. is an award-winning transportation expert and leading advocate for how autonomous vehicles (AV) and other advances can be used to improve the quality of life for travelers throughout the nation. His proven track record as a change-agent and visionary who embraces state-of-the-art technology and innovations has made him a highly sought after advisor, consultant, and executive coach.
Ford began his stellar career at the Metropolitan Transportation Authority (MTA) in New York, the oldest and largest in the country, where he learned every facet of the industry before he went on to become CEO of two of the 10 largest transportation authorities in the US – the San Francisco Municipal Transportation Agency (SFMTA) in California, and the Metropolitan Atlanta Rapid Transit Authority (MARTA) in Georgia.
Those positions gave Ford the distinction of ushering in industry firsts – the first 100% transit smart card and multimillion dollar transit-oriented development at MARTA, and the first real-time smart parking app and oversight of a regional authority spearheading a multibillion development in San Francisco, to name a few. That expertise and forward-thinking was the compass that helped guide Ford when he was named CEO of the Jacksonville Transportation Authority (JTA). Since joining the JTA in 2012, Ford has been lauded for leading the total transformation of the mid-sized Authority from a local company focused on buses, roads, and bridges, into a best-in-class, regional organization that is held in high-regard locally, nationally, and even globally.
One of Ford administration's crowning achievements is developing an autonomous vehicle program centered on the JTA's Ultimate Urban Circulator (U2C). The cutting-edge innovation was in the world spotlight during the COVID pandemic when the JTA partnered with autonomous vehicle providers to transport COVID-19 tests for Florida's esteemed Mayo Clinic.
Ford enhanced his wealth of knowledge by serving as 2022 Chair of the prestigious Transportation Research Board (TRB), a division of the National Academies of Sciences, Engineering, and Medicine that promotes innovations, technology, and research in transportation. He is a former chair of the influential American Public Transportation Association (APTA).
Ford has an MBA from Jacksonville University's Davis School of Business. He also has a Bachelor's degree in Applied Science in organizational leadership from Mercer University, and is a certified Master Executive Coach. He is a graduate of the Executive Development Consortium Program at Emory University and has completed executive training at the John F. Kennedy School of Government at Harvard University.
Ford is married to Jannet Walker-Ford, Senior Vice President for Rail and Transit at WSP, and chair of WTS International. They are recognized as two of the most influential people in modern transportation.