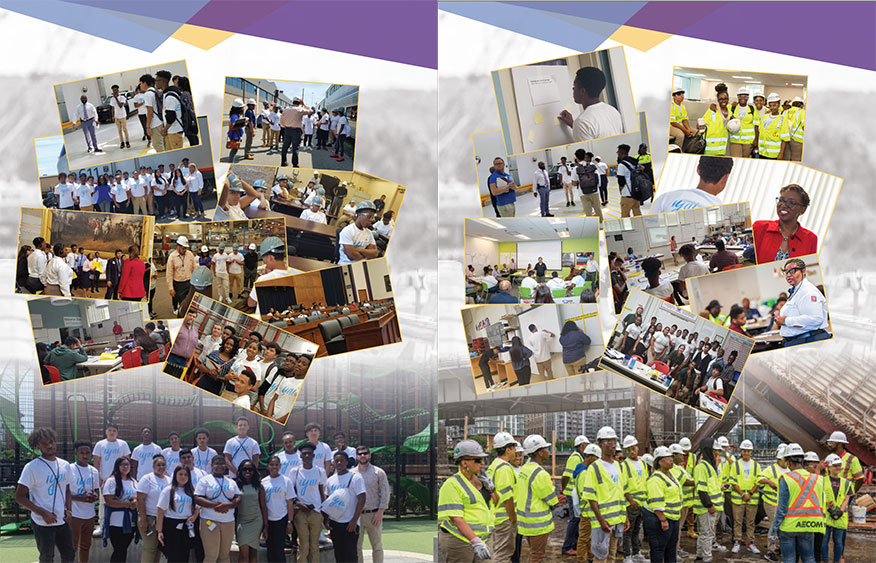 Our two-years of intense pilot programming have been tremendously successful. And, as importantly have provided "direct" experience with alternative delivery and partnering models – including both "hands-on" and "100% remote (home-based) learning environments — that will help us to even better tailor our future programming for the needs of different communities and settings.
In every instance– our YOUTH participants (predominately 11th and 12th graders) gave our programming extremely high marks!
✓ INFRASTRUCTURE CAREER AWARENESS(multi-sectoral; multiple pathways) – UP+
✓ PERSONAL CAREER INTEREST – UP+
✓ UNDERSTANDING the Connection to People, Community and Societal Outcomes – UP+
✓ YOUTH "Voice" in Decision-Making; and the value of Public Service – UP+
As we move into 2021, we want to personally thank all the supporters – "Our Community"— who have helped in so many ways to make our uniquely multi-sectoral, equity-and community-centered "infrastructure" careers programming a reality. And, to our amazing YOUTH participants – "Community-Builders" – a tremendous debt of gratitude for sharing your fresh perspectives and insights (personal knowledge and "learned" experience), authentic "voices", and trust.
And our current "Community Builder" Interns ("alumni" from our District of Columbia and City of Chicago summer pilot programs) are fast at work with their peers to recommend Program enhancements as we expand our future programming.
We invite you to learn more about our Infrastructure Careers Awareness Programs, including our "My Beloved Community" Transformative Justice element which encourages YOUTH to give voice to the impact of infrastructure on their households, communities, and society.
Again, thank you for your support of our YOUTH and vote of confidence. We look forward to moving forward together with all of you in 2021.