As part of the 2023 Sustainable Mobility Career Awareness Programming, Iyai successfully organized a series of 9 webinars to demonstrate various opportunities and trajectories in the transit and mobility sectors.
Transportation Research Board – 3-Part Series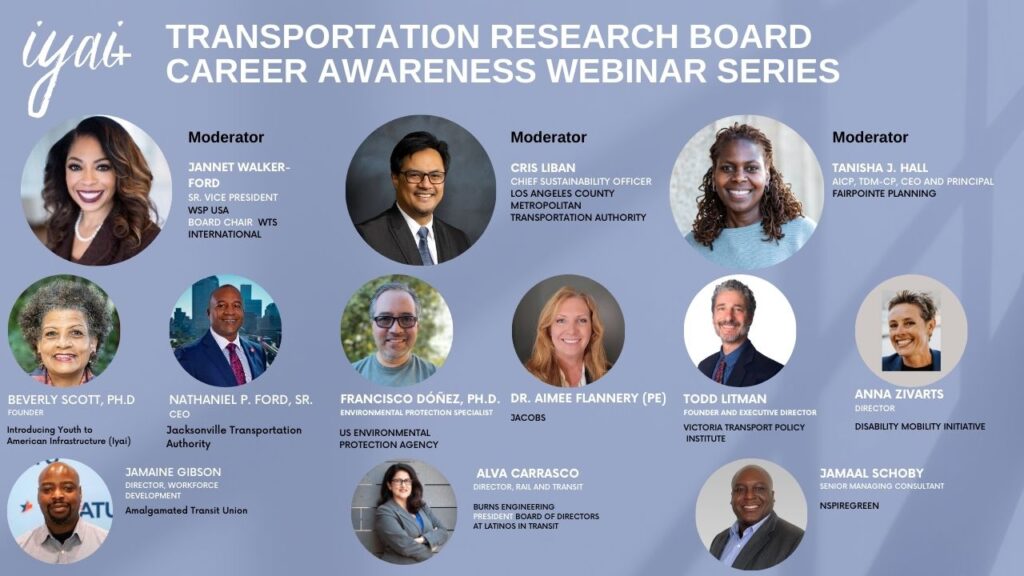 The first series happened in conjunction with the Transportation Research Board. Presenters shared emerging workforce needs and trends and suggestions for diversification and meaningful youth engagement in sustainable mobility and transport careers.
We kicked off with "The Future Transportation Workforce is Happening Now!" Speakers included our own Dr. Bev Scott, Jamaine Gibson, Director of Workforce Development at Amalgamated Transit Union, and Nathanial P. Ford, Sr., CEO of Jacksonville Transportation Authority. The session was moderated by Jannet Walker-Ford, Sr. Vice President of WSP USA and Board Chair of WTS International
The second webinar in the TRB Series is "Sustainable Mobility: New and Expanding Opportunities", which featured speakers Francisco Dóñez, PH.D., Environmental Protection Specialist from the US Environmental Protection Agency, Dr. Aimee Flannery (PE) at Jacobs, and Alva Carrasco, Director, Rail and Transit, Burns Engineering, and President Board of Directors at Latinos in Transit. Chris Liban Chief Sustainability Officer of Los Angeles County Metropolitan Transportation Authority moderated this session.
We closed the TRB series with "Transportation Equity: Community-Building in Action". Speakers were Todd Litman, Founder and Executive Director of Victoria Transport Policy Institute, Anna Zivarts, Director of Disability Mobility Initiative, Jamaal Schoby, Senior Managing Consultant at Nspiregreen. Our moderated was Tanisha J. Hall, CEO and principal of Fairpointe Planning.
Iyai Career Awareness Lunch & Learn Series
Iyai collaborated with a number of amazing organizations and presenters to put together a six-part Career Awareness Lunch and Learn Series.
California High-Speed Rail Authority's Yaqeline Castro and Iyai Intern, Susan Ortiz shared their stories of what it's like to be a young person beginning a career in transportation.
We featured a presentation by and discussion with April Rai, National President of the Conference of Minority Transportation Officials (COMTO) about building a DEIA Centered Transportation Workforce.
Desi Hall of Jobs to Move America shared her career path to becoming a faith-based organizer. She discussed some of the challenges she's faced in the workplace as a black and transgender woman and how her experience at Jobs to Move America changed everything for the better.
In a collaboration with Transit Workforce Center (TWC), Iyai's Dr. Beverly Scott and TWC's Shayna Gleason presented an overview of the transit career landscape, followed by participants in diverse positions talking about their work and careers.
​Speakers included, Marvin Alfred, President, Amalgamated Transit Union (ATU) Local 113 (Toronto); Kyisha Bond, mechanic apprentice, IndyGo (Indianapolis), Inez Evans, President and CEO, IndyGo (Indianapolis); Andrew Falotico, Health and Safety Representative, ATU Local 113 (Toronto); Desiree Patrice, Deputy Chief of Capital Transformation, MBTA (Boston).
Karen Philbrick from the Mineta Transportation Institute facilitated a conversation between the audience and presenters.
Ninety-one-years-young Ms. Laverda Allen–founder of a small but mighty construction management company, The Allen Group–shared some of the highlights and challenges she has experienced during a lifetime in infrastructure leadership and community activism, and the wisdom she has to share with those just beginning their careers.
​On National Transportation Day, as part of United for Infrastructure week, Iyai hosted a panel of APTA Emerging Leaders to share their personal career stories and insights on why mobility careers matter! ​
Our panelists shared their transportation career pathways in maintenance, engineering, recruiting/human resources, and zero emission fleet technology. ​
Panelists included: ​Rebekka Bolt, Assistant Maintenance Director, Champaign Urbana Mass Transit District, Urbana, IL; ​Alroy Gibson, Manager of Recruiting, Human Resources, Greater Cleveland Regional Transit Authority, Cleveland, OH; ​Ashley Greaves, Intermediate Project Engineer, HATCH LTK, Houston, TX; ​and Roger Johnson, Manager of Zero Emission Fleet Technology, Regional Transportation Commission of Southern Nevada, Las Vegas, NV
As part of our June 23, 2023 Virtual Sustainable Mobility Careers Program Opening Reception, we invite youth program participants and attendees ages 25 and under to join us for a Career Awareness Trivia Contest where participants will be asked questions based on this webinar series for a chance to earn additional prizes.
Until June 15, 2023, ALL program participants/attendees (of all ages) are welcome to submit a question (or three!) to the trivia contest here.