FOR RELEASE July 10, 2023
CONTACT: Dr. Beverly Scott, Founder, Iyai+, Introducing Youth to American Infrastructure, Inc., Albany, California (www.iyai.org); [email protected].
Founded in 2018, Iyai+'s mission is to address the high-risk next-generation career awareness, interest, and workforce development challenges facing the critical infrastructure sectors and motivate young people to choose infrastructure careers and become tomorrow's Community Builders – infrastructure leaders, skilled workforce, community advocates, entrepreneurs, and innovators – with specific emphasis on increasing the participation of historically under-represented groups.
On June 28, 2023, iyai+ proudly announced the winners of its debut 2023 Sustainable Mobility Career Awareness & Innovation Challenge program. Learn about the iyai+ Program and participants — Local Host Organizers & Youth, Team Awardees, Sponsors, and Judges.
Program Overview
In 2023, iyai+ significantly expanded its geographic reach and career awareness infrastructure sector programming to include an "Innovation Challenge" and "Critical Conversations" element — targeting young adults aged 18-25; and representing Local Transport Host Organizers from 12 locations across North America and 18 transport operators, including the Toronto Transit Commission (TTC) in Canada. Both elements focus on meaningfully engaging YOUTH VOICE to address real-world challenges in their local communities; and to provide their perspectives and input on what we can do to better motivate, attract, prepare, and retain a diverse and future-ready workforce. A well-documented high-risk workforce challenge facing the transportation sector and other critical infrastructure sectors.
"Unlocking this often-untapped potential presents a major opportunity to invest in 21st-century infrastructure that is sustainable, safe, fair, and beneficial to all people and communities. In addition to Career Awareness, proactively engaging YOUTH VOICE to address real, community challenges to Re-Imagine – and more importantly – to Re-WRITE Normal is critical to being future-ready.   Digging deeper to directly engage local agencies, businesses, and community stakeholders in these professional, personal development and community-building opportunities is a real game-changer.   We just can't say it – WE need to DO IT!",
says Dr. Scott.
Iyai+'s 2023 program launched on February 8, 2023, with participation in a 3-part Sustainable Mobility/Transport Career Awareness Webinar Series, sponsored by the Transportation Research Board, National Academies of Sciences, followed by releasing a 6-part career awareness Lunch and Learn series, and held its Career Awareness Awards and "virtual" Grand Innovation Challenge Competition on June 23-25, 2023.
The final element of the program, CRITICAL CONVERSATIONS, will conclude in August 2023. Developed from surveys and documented youth focus groups, these conversations are youth-centered, specifically focused on the chronic shortage of essential frontline transit positions (bus and train operators and mechanics) and other identified high-risk workforce challenges. The input collected will be broadly shared, and hopefully provide actionable insights to help address current chronic workforce risks – and better inform future Next Gen planning.
INNOVATION CHALLENGE AWARDEES
Local Host Organizers worked with their youth participants on a locally identified mobility/transport challenge focused on achieving "equity-centered" sustainable mobility; and advanced a Local Team to the virtual "Innovation Challenge" held in virtual space on June 24-25th.
Congratulations to ALL the youth participants – and to these outstanding awardees. And, deep appreciation to the esteemed panel of judges for the Innovation Challenge which included: Leslie Rogers, Esq., Retired USDOT, Regional Federal Transit Administration Administrator (Chair); Andrew Brennan, Vice President, National Transit & Rail Practice, HNTB; Alesia Cain, CUBIC Transit Solutions, Head of Umo Solutions & Market Development; Julia Gessner, Transdev U.S. Director of Administration (APTA Emerging Leader); and Greer Johnson Gillis, P.E., Senior Vice President, Chief Infrastructure, JTFLA.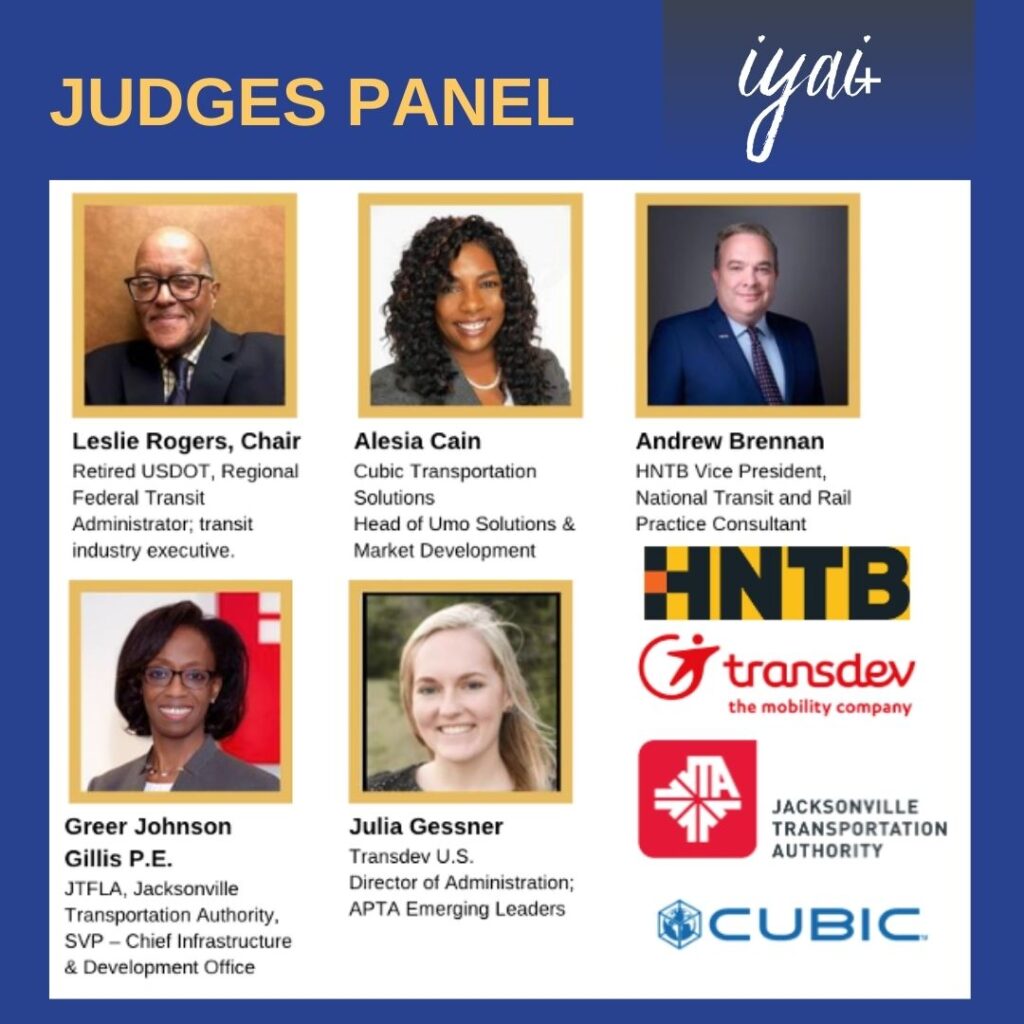 First Place
The Toronto Transit Commission (TTC) is the first-place winner for their project "Improving Customer Flow through Convenient- Accessible Mobility" earning a prize of $750 USD per youth participant. Watch their entry submission video here: https://youtu.be/2hw6REmUQbw. The TTC Team Participants are Aamina Bulbulia, Gaveen Weerasinghe, Raina M., and Zach B.
Second Place
The Metropolitan Transportation Commission (Bay Area Collaborative, comprised of the 7-largest SF Bay Area public transit operators) secured second place, with a prize of $250 USD per youth participant, for their project "Return to Transit" (https://youtu.be/pOUaTUne2O8). The MTC "Transit Titans" Team Participants are Alexander Hirji, Jaylene Perez, Nicholas Wilsey, and Sahij Sandhu.
Special Mentions

Special Mentions – 3rd & 4th place, respectively went to the Denver Regional Transportation District (RTD) for their project "RTD Youth Team Career Awareness" (https://youtu.be/BUjaE69o6-8 ). The Denver Team Participants are
Evelyn Perez-Torres, Jesus Quiñonez, Chhusang Sherpa, Bourgeon Damandier, and Atika Abdulhakim.

And to MetroLINK (Rock Island County, IL) for their project "Food Deserts – Solutions and Mobility Opportunities" (https://youtu.be/z5gtc3Ox2BE ). The MetroLINK Team Participants are Amanda Gravelle, Benjamin Castro, Carter Thompson, and Sarah Villani.
CAREER AWARENESS TRIVIA AWARD
The Career Awareness Trivia Contest (age 18-25 eligibility) quizzed participants on the contents of the 9-part Career Awareness sessions (February – May 2023). Adrian Vega, AC Transit (Bay Area) won 1st place ($750 USD award); and Zach B., Toronto Transit Commission won 2nd place ($250 USD award).   
Links to this exciting 9-part series and dynamic line-up of speakers are here https://iyai.org/career-awareness-webinar-series-demonstrates-a-world-of-opportunities-in-sustainable-mobility-careers/ .
National industry presenters and resources
Iyai+ is grateful for the many industry presenters, as well as their national industry association resources, including: the Amalgamated Transit Union (ATU), American Public Transportation Association (APTA), Conference of Minority Transportation Officials (COMTO), Jobs To Move America (JMA), International Transportation Labor Center/Transport Workforce Center (ITLC/TWC), Latinos in Transit (LIT), Mineta Transportation Institute (MTI), and WTS International chapters.
Iyai+ is genuinely appreciative of its committed and expanded network of supporters – Program Participants (our young adults/youth, actively engaged organizations and professional associations; presenters, industry and community stakeholders) – its Sponsors who provide important financial and programmatic support; and a growing number of iyai+ alumni.
The 2023 Local Host Organizers and participating transport agencies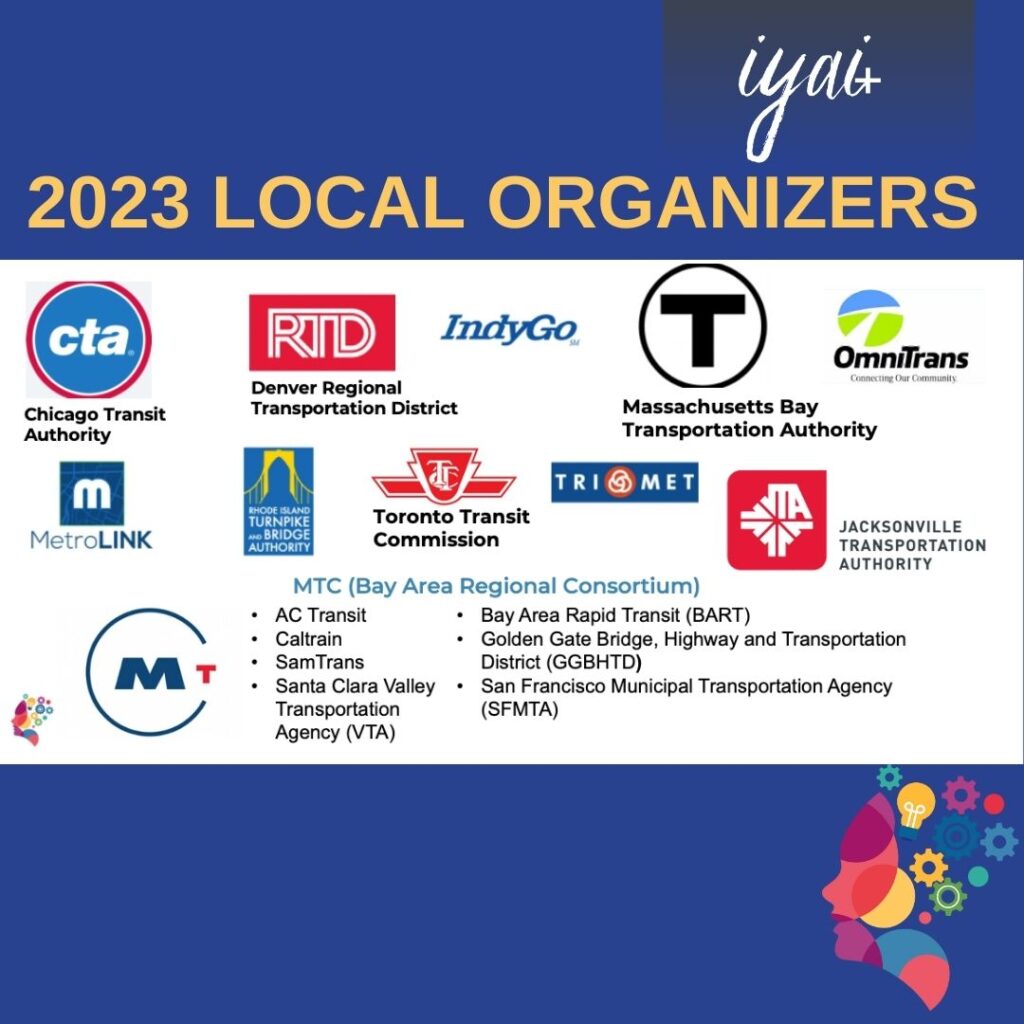 Chicago Transit Authority (CTA)
Denver Regional Transit District (RTD)
Indianapolis Public Transportation Corporation (IndyGo)
Jacksonville Transportation Authority (JTAFLA)
Massachusetts Bay Area Transportation Authority (MBTA)
Omnitrans (Inland Empire)
Rhode Island Turnpike & Bridge Authority (RITBA)
Rock Island County Metropolitan Mass Transit District (MetroLINK)
Toronto Transit Commission (TTC)
TriMet (Portland-area)
The Metropolitan Transportation Commission (MTC) Bay Area Regional Consortium consisting of 7 participating agencies: AC Transit, Bay Area Rapid Transit (BART), Caltrain Golden Gate Bridge, Highway and Transportation District (GGBHTD), SamTrans, San Francisco Municipal Transportation Agency (SFMTA), and Santa Clara Valley Transportation Agency (VTA).
The 2023 Program Sponsors
Platinum Level: American Public Transportation Association (APTA), Barr Foundation, and HDR.
Gold and Silver Sponsors: IEGO (Inland Empire), Mineta Transportation Institute at San Jose State University, Beverly Scott Associates, LLC, and The Allen Group.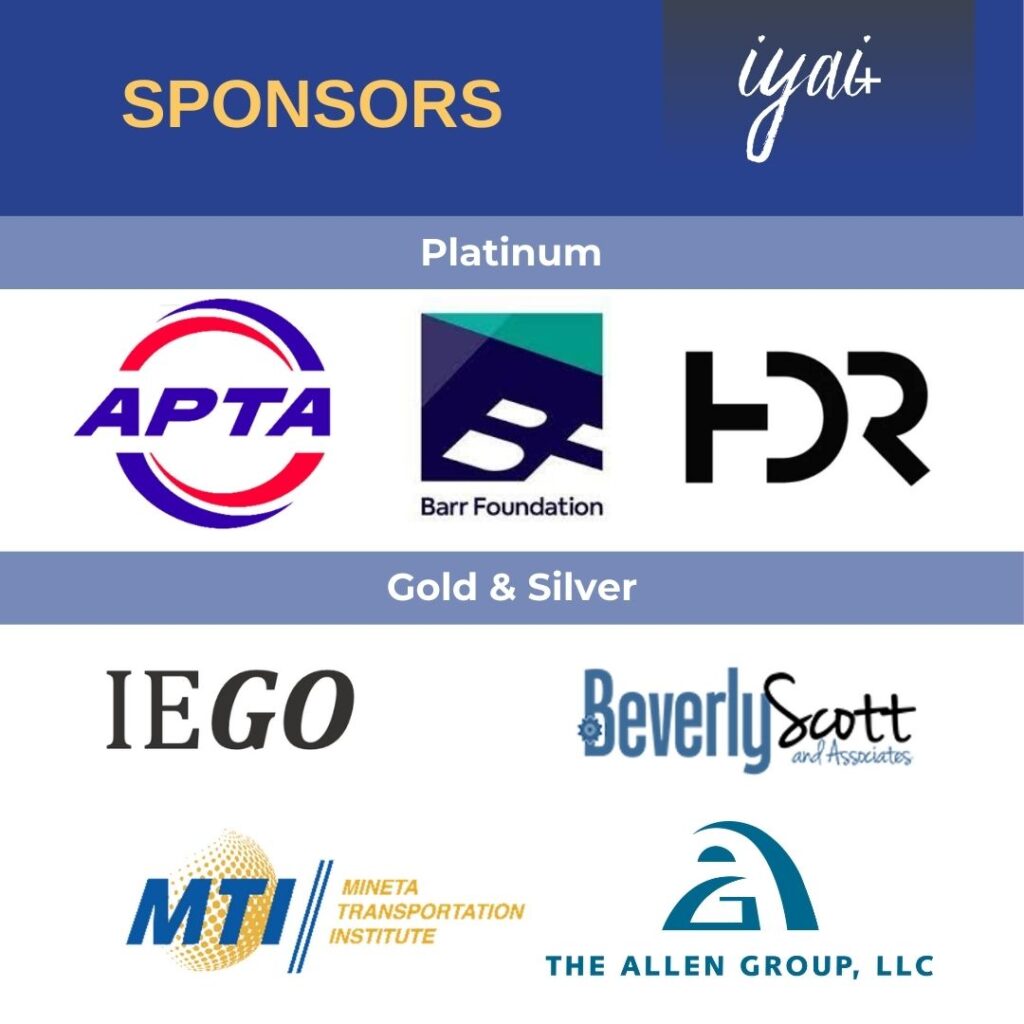 For more information, please visit https://www.iyai.org/.