Omnitrans is the public transit agency serving the San Bernardino Valley, providing safe, reliable, affordable, friendly and environmentally responsible transportation. Omnitrans currently operates local and express bus routes, sbX bus rapid transit service, and Access, a paratransit service for the disabled.
Established in 1976 through a joint power agreement, Omnitrans carries approximately 11 million passengers each year throughout its 480-square mile service area, covering 15 cities and portions of the unincorporated areas of San Bernardino County. Major destinations within the Omnitrans service area include transportation centers, medical centers, educational facilities, shopping malls, business parks, and community centers.
About Us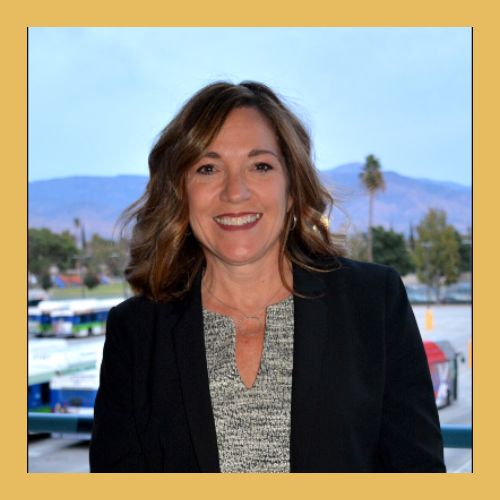 Erin Rogers
CEO/General Manager
Erin Rogers brought nearly three decades of industry experience to her role as Omnitrans CEO/General Manager, including two years in the agency's Deputy General Manager position. Erin previously held a Regional Vice President position for MV Transportation and spent 16 years at the Orange County Transportation Authority (OCTA), among them a decade as Assistant General Manager. She began her career as the paratransit manager at DAVE Transportation Services in Boston.
A native of Syracuse, New York, Erin is a graduate of the State University of New York, Geneseo. She is committed to industry education and development and is a graduate of the Eno Center for Transportation's Executive Seminar and the American Public Transportation Association's Leadership APTA program. Erin is President of the American Bus Benchmarking Group and a member of the California Transit Association Executive Committee. She also is an active member of the Women's Transportation Seminar. As Omnitrans' leader, Erin's focus for fiscal year 2023 includes service resumption, environmental responsibility and workforce development.
Participants